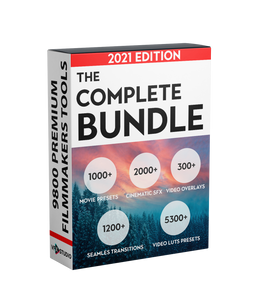 This is an absolute wow-product!! This is new. Filmmakers, this is what you have been looking for. The PREMIUM PRODUCT to fit all your needs:
What's in the pack:

✅ 1000+ Movie Video presets

The best LUT pack available on the web. It's based on  36 award-winning Hollywood movies. Just think about it: 1000+ colour grading variations from movies such as: Avengers, James Bond, Star Wars, Godfather, Batman, Joker, Mad Max, The Wolf of Wall Street and many others. Get that edgy  professional look to your videos !

✅ 2000+ Cinematic sounds
This is a must-have sound effects library for filmmakers.  includes 2000+ amazing original sounds that have been designed to help you create stunning cinematic films. There are 36 categories to help you get sounds for any of your videos: Atmospheres, whooshes, office, domestic, clothes, footsteps, rises, thunder, wind, explosions, low-hits, and 26 more.



✅ 1200+ Seamless transitions for Premiere Pro 

The bestselling pack of transitions you definitely need to save time. Transitions are crated so that the sequence of clips from different scenes is blended smoothly to get that final result you need. Moreover, each transition sets a certain mood, that unique flavour, allowing you to control the right message within the video. This pack includes the following transitions: rotate, glitch, twist, transform, zoom and a lot of other options.



✅ 300+ 4k Video overlays

This pack is just amazing. First of all, it's 4k. Secondly, it includes 15 categories. Thirdly, it's much cheaper than buying these effects from stock websites. So why do you need this product? It will help you add missing elements to your video to make it way more dynamic or set a certain atmosphere.
For example, Light leaks is a very trendy effect that will make your videos look more professional. Rain, Snow, Sparks, Rays effects will help you transfer vibrant emotions to the viewer. Glitch, rays, smoke, particles, planets...well, let your imagination roll.
✅ 5300+ Video Lut Presets
This is our newest product. It has been designed to give you maximum diversity and provide just a crazy amount of colour grading options. You will never run out of ideas again. They are broke down to categories: from Food and Commercial to Wedding and Drone. 

Time to transform your video with the best PREMIUM FILMMAKERS pack available on the web.
Grab This 
For Just  $1479    

$132.99 

Today 

!
COMPATIBLE APPS*:
After Effects 

✓

Serif Affinity (photo editing app) ✓

Adobe Premiere ✓

Avid Media Composer 

✓

Corel Pinnacle Studio ✓

Corel Videostudio ✓

Cyberlink Powerdirector ✓

DaVinci Resolve ✓

Edius (version 9 or higher) ✓

Final Cut / Final Cut Pro✓

Filmora ✓

Hitfilm ✓

Kinemaster ✓

Lightworks ✓

Luminar (photo editing app) ✓

LumaFX  - Iphone/Ipad ✓

Motion 5 ✓

Sony Vegas ✓

Vegas pro 16/17 ✓

VSDC ✓

LUT is a universal format, so there are other compatible programs (even for photo editing). Feel free to email us if your program is compatible info@vfx-studio.com 

DIRECT DIGITAL DOWNLOAD
* Premiere pro transitions will only work in Adobe Premier Pro CC.  
Licensed by Vfx Studio /